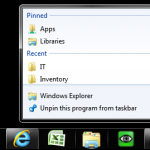 Another post that is slightly related to our Symantec Endpoint Protection (SEP) testing; on our Windows 7 machines, we've found that with SEP installed and enabled, the jumplists for all programs are drastically slower to appear.
As soon as the antivirus auto-protect is disabled, performance returns to immediate. This slowdown was most notable on Windows Explorer jumplists, however it also affected Microsoft Office and other programs.
I eventually found a solution, related to an obscure location for the jump list cache.
Sign in as the user having the problem, and paste this into an address bar:
%AppData%\Microsoft\Windows\Recent\AutomaticDestinations
This folder contains a cache of the Jumplist entries. To fix the issue for Windows Explorer, find the entry that begins with:
1b4dd67f29cb1962
And delete it.
Then navigate here:
%AppData%\Microsoft\Windows\Recent\CustomDestinations
And do the same thing; delete the file that starts with:
1b4dd67f29cb1962
After this you will need to re-pin any items you previously had pinned for that application.
This will only resolve the problem for Windows Explorer; you may have to do some trial and error to find the appropriate cache to delete for any other programs.