We're currently testing the latest release of Symantec Endpoint Protection (SEP) 11 MR6a, to replace the Symantec Corporate Antivirus 10.1 that we're currently using. During this testing, we've found a bug that is only mentioned a few other places online.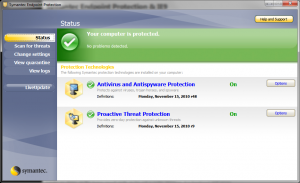 If you have SEP11 installed on a computer with the Internet Explorer 9 beta, it will not receive definition updates from the management server. I haven't heard of a solution to this problem yet.
The work-around that we've done is to create a new Location within the management server whose membership filter the computer name or IP of the IE9 beta participants. Then we assign a new LiveUpdate policy to that location, which forces those computers to use LiveUpdate for definitions, instead of the management server.
Hopefully this issue is fixed before IE9 hits release.