At my company I've been using Mindtouch since it was called Dekiwiki. Its use is primarily as a company intranet, with resources, documentation and a gathering place for certain tools.

This post is the first about our implementation, and my intention is to demonstrate what is capable with Mindtouch Core in a practical manner. This type of information is notoriously hard to find from Mindtouch, as they are a company very much set on buzzwords and corporate speak.
As a wiki, intranet or document port, I really do recommend Mindtouch. It is incredibly easy to set up, very easy and friendly to use, and has vast potential for customization.
If you want to get started, I'd recommend you download the VMware image from here:
http://www.mindtouch.com/downloads
I believe you will need to register for a license of Core, which is free.
So diving in, here is the front page of our wiki (excluding some identifiable information):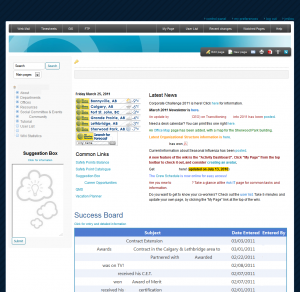 This is using a customized version of the Beechbeta skin, with modifications such as:
Changed to a dynamic width skin instead of fixed
background tiling to match corporate colours
Additional links underneath the logo placement (logo hidden in this image, its top left usually)
Certain CSS sizing of elements.
We have enabled single sign on, so as long as the user is authenticated with Active Directory, the wiki will use those credentials to sign in.
On our front page, I am using a template to display weather for our regional offices, with a simple table beside that for current news which is updated manually.
The success board is an iframe, which displays a custom gridview from a minor database.
On the left you can see a suggestion box, which is an html form that is linked to php code that automates email submission.
Our page structure is shown on the left, where most of the content is specific to a Department, an Office (geographical) or company wide (Resources).
Here are some of the practical uses we're using Mindtouch Core for:
Embedded media

Documentation reference

FAQ pages and instructions

Links page (many staff bookmark this page)

Accessibility to various internal tools and sites, such as Vacation Planner, Suggestion Box, etc.
Program distribution through files page

We are also trying to promote the personalize page feature of Mindtouch. Every user has their own personal page, which can be made into a biography, notes, or photo dump.
Recently Mindtouch has added an "Activity Dashboard" which is useful. I've added a slideshow of any photos added to a user's personal page onto this Dashboard: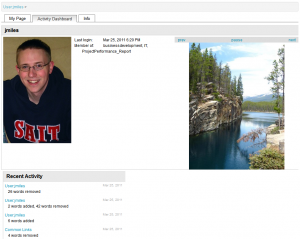 As well, we've added a tab with Info about the user, pulled from our Active Directory. I would have really liked to get this on the Activity Dashboard tab, but that is beyond my coding skills.
So that in a nutshell is how we're using Mindtouch. In the future I'll post more on the specific tools we're using and how they're created.
If you'd like information on how any of these features or customizations are done, leave me a comment!