Azure Automation runbooks are very useful – particularly for scheduled or repeated operations. One downside I have observed is that they are very often disconnected from proper version control.
Microsoft has a solution for this: source control integration
You can connect a GitHub/Azure Repo to an Automation Account, which uses resources like RunAs accounts, personal access tokens (from your repo), and automation jobs to perform the sync.
I began evaluating this for the purposes of importing, publishing, and scheduling some runbooks, however there were two key reasons I felt a different direction was better suited:
Flexibility – I could only sync a folder named "runbooks", and only import and publish them. What if I only wanted a certain selection of runbooks? What if I wanted to segregate runbooks between different Automation Accounts? What if I wanted to manage my schedule definition as code too? Sure there are solutions to these problems, but then they become workarounds or addons to the source control integration.
Consistency – other areas of ensuring version controlled code is released to some environment typically use continuous deployment tools; why would I treat my runbooks any different? If I'm already going to be using Azure DevOps pipelines for these areas, I want to keep that consistency going.
There are a few different ways that runbook management could be accomplished in an Azure DevOps pipeline: Azure PowerShell, ARM templates, Azure CLI.
For simplicity and speed of development, I chose to use Azure PowerShell, combined within a YAML pipeline definition.
My use-case here is taking my Update Management scripts and making them run automatically on a schedule. Based on that, I have the following structure in my repository:
PowerShell (Folder)
    Update Management (Folder)
        azure-pipelines.yaml
 	Set-UpdateManagementSchedule.ps1
 	Get-AzCachedAccessToken.ps1
 	New-UpdateManagementSchedule.ps1
        Publish-AARunbookFromDevOps.ps1
    New-EmailDelivery.ps1

Set-UpdateManagementSchedule.ps1 defines some time zones, and then iterates over them calling New-UpdateManagementSchedule.ps1 for each. At the end, it uses New-EmailDelivery.ps1 to send results by email.
New-UpdateManagementSchedule.ps1 calls Get-AzCachedAccessToken.ps1 in order to use an existing Az PowerShell context to create a bearer token and authenticate against Azure REST API with it (where I'm using Update Management endpoints).
Publish-AARunbookFromDevOps.ps1 is my script that gets called within the DevOps pipeline, to import and publish the runbooks to the automation account.
I want Set-UpdateManagementSchedule.ps1 to run once per month, because it calculates the appropriate timing of Update Management schedules. I don't want any of the other scripts to have a schedule at all, since they're just referenced at some point in time.
In order to make this all happen, I created a DevOps pipeline, stored within the "azure-pipelines.yaml" file.
The concept of storing the pipeline as code within YAML is very advantageous, however difficult to simply write from scratch. Often I will create a dummy pipeline in the GUI, using the Task Assistant (see below) and Azure DevOps task docs in order to understand the syntax and components of what I'm trying to achieve.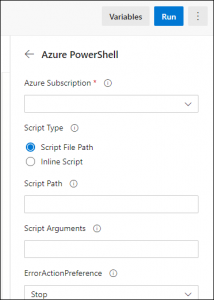 I can then take that YAML that has been progressively built, store it in my repository, and create a fresh pipeline and import using it.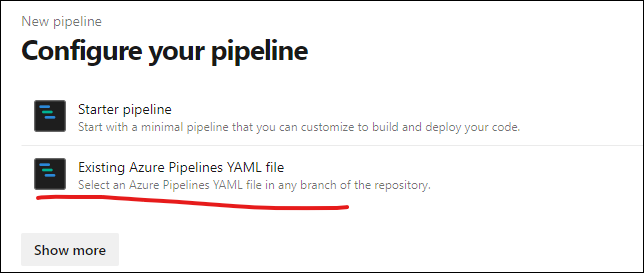 In this case, my pipeline starts with a trigger definition, for which I learned and utilized path-based rules that Azure Repo supports:
trigger:
  branches:
    include:
    - master
  paths:
    include:
    - PowerShell/UpdateManagement/*

This will ensure the pipeline only triggers when a runbook within the UpdateManagement folder is modified, rather than my whole repository.
Using the AzurePowerShell task, I can trust that authentication to Azure will be handled appropriately as long as I supply a service connection (shown as the "azureSubscription" property below).
- task: AzurePowerShell@5
  inputs:
    azureSubscription: 'automation-rg' #This is the devops service connection name
    ErrorActionPreference: 'Stop'
    FailOnStandardError: true
    ScriptType: 'FilePath'
    ScriptPath: './PowerShell/UpdateManagement/Publish-AARunbookFromDevOps.ps1'
    ScriptArguments:
      -runbookname Get-AzCachedAccessToken `
      -runbookfile ./PowerShell/UpdateManagement/Get-AzCachedAccessToken.ps1 #`
      #-scheduleName $(userPassword)
    azurePowerShellVersion: 'LatestVersion'
  displayName: Deploy AA Runbook - Get-AzCachedAccessToken

For each Runbook that I want to handle in my pipeline, I'm calling the "Publish-AARunbookFromDevOps.ps1" script and supplying arguments related to that specific runbook. I wanted to break it out this way to give me the most flexibility to handle runbooks independently.
This script that is called is fairly static right now; I'm making a bunch of hard-coded assumptions such as "we will always overwrite the runbook if it exists rather than comparison checking", and "every import needs a publish", and "only 1 kind of schedule is going to be used".
Limiting the schedule to my hard-coded values reduced the time-to-deploy this in my environment, because I didn't have a need right now for further manipulation. This idea is related to "YAGNI" or "You aren't going to need it" that I recently read about from Martin Fowler.
When the pipeline runs, it performs all it's tasks in about 3:30 minutes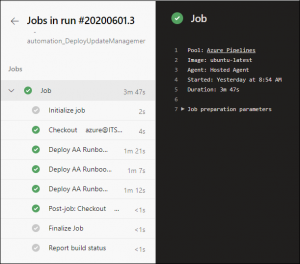 I can see that it has created a Schedule in my automation account, and linked it to the runbook:

Check out the README.md from the GitHub repo for details on re-using this code for yourself.