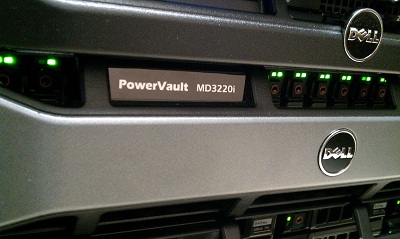 There isn't too much out on the interwebs about the MD3220i, so I thought I'd share my experience with updating the firmware.
Before the Christmas break Dell called and mentioned that a very important firmware update had been released, and it should be done as soon as possible. Due to scheduling, last week was when I scheduled a maintenance window to do it.
I was previously on firmware 10.70, so to fully update to 10.80 I need to use the bridge firmware to get to 10.75 first.
Luckily I realized that I needed to update the "PowerVault Modular Disk Storage Manager Client" before doing the firmware update. I uninstalled the previous version, and then reinstalled from this package:
ftp://ftp.dell.com/FOLDER88591M/1/DELL_MDSS_Consolidated_RDVD_3_0_0_18_A00_R314542.iso
However, installing from the setup.exe in that ISO, I had lost the actual "PowerVault Modular Disk Storage Manager Client"; no where to be found.
Eventually I figured out that from the install source, you also need to go into one of the sub directories, and run a different executable to get the MDSM Client.
Of course, I started drafting this post while I had that install source, and now I realize I must have deleted it so I can't give the exact path of the executable that is needed. If I download the package again, I'll make sure I update this post with the right path.
Once I had the MDSM updated, I updated to the bridge firmware first, and then the 10.8 firmware second. During this process the MDSM gave specific information about which controller it was updating, and all of my resources running from the MD3220i went uninterrupted.
Firmware updates are always a little stressful, even more so when the company SAN is the one undergoing an update; this one was smooth and painless which I was very glad for.
My Hyper-V cluster logs went wild though, reporting failures of the reach-ability of all hosts. Nothing to worry about since there's dual controllers, but something to be aware of.