This is an update to my earlier post on December 6th, 2010 here.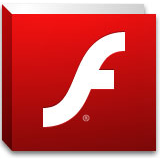 Since the original post, a few developments have been made through personal findings and the comments.
The "Installax.exe is not marked for installation" issue is still occurring with the latest versions of Flash, so I have decided to abandon GPO deployment through software assignment altogether.
Instead, I will be using the following batch script in a startup script GPO, and keep it updated accordingly. Thanks to Chris Deeming who made some improvements to the original script and posted it in the comments on my original post.
I have tried to be as verbose as possible in the comments so that this is easy to follow along with.


:: Adobe flash giving "installax" errors when updating from GPO
:: This batch file will remove those errors and install latest version
:: This batch file should be run from a shutdown or startup script

@echo off

:: These are the only changes that need to be made for an updated version. 
:: Simply put in the new version number, and the path to the new MSI file. 
Set "LatestVersionNumber=11.0.1.152"
Set "LatestVersionMSI_Path=\\domain\Public\General\adobeflash\install_flash_player_11.0.1.152.msi"


:: Check Windows Version
ver | findstr /i "5\.1\." > nul
IF %ERRORLEVEL% EQU 0 goto ver_XP
ver | findstr /i "6\.1\." > nul
IF %ERRORLEVEL% EQU 0 goto ver_Win7


:ver_Win7
::Run Windows 7 specific commands here
Set "AdobeVersion=" & setlocal & Set "$V="
:: Look in the Uninstall area of registry, where the installed version of Flash player is listed
Set "RegKey=HKLM\SOFTWARE\Wow6432Node\Macromedia\FlashPlayerActiveX"
Set "RegItem=Version"
:: Take the output of a REG QUERY to the location above, and put it into the AdobeVersion variable
For /f "tokens=3*" %%! in (
   '2^>nul Reg.exe QUERY "%RegKey%" /v "%RegItem%" ^|(
   Findstr.exe /ri "\<%RegItem%\>"^)') Do Set "$V=%%!"
endlocal & call Set "AdobeVersion=%$V%"

:: If what is currently installed matches latest version, exit. Otherwise, go to install section
IF DEFINED AdobeVersion (goto :Win7vercheck) ELSE (goto :install)
:Win7vercheck
if %AdobeVersion% == %LatestVersionNumber% goto :exit
goto :Install


:ver_XP

::Run Windows XP specific commands here
Set "AdobeVersionXP=" & setlocal & Set "$T="
:: Look in the Uninstall area of registry, where the installed version of Flash player is listed
Set "RegKeyXP=HKLM\SOFTWARE\Macromedia\FlashPlayerActiveX"
Set "RegItemXP=Version"
:: Take the output of a REG QUERY to the location above, and put it into the AdobeVersion variable
For /f "tokens=3*" %%! in (
   '2^>nul Reg.exe QUERY "%RegKeyXP%" /v "%RegItemXP%" ^|(
   Findstr.exe /ri "\<%RegItemXP%\>"^)') Do Set "$V=%%!"
endlocal & call Set "AdobeVersionXP=%$V%"

:: If what is currently installed matches latest version, exit. Otherwise, go to install section
IF DEFINED AdobeVersionXP (goto :WinXPvercheck) ELSE (goto :install)
:WinXPvercheck
if %AdobeVersionXP% == %LatestVersionNumber% goto :exit
goto :Install

:Install


::Uninstall current versions of Flash from DFS share
msiexec /uninstall %LatestVersionMSI_Path% /quiet

:: Remove offending registry entries causing the error
REG DELETE HKEY_CLASSES_ROOT\Installer\Features\4E867BFF724E3554CB631AF1E5269AD4 /F
REG DELETE HKEY_CLASSES_ROOT\Installer\Features\6D98A6046E9005543B07D873D6BD65EB /F
REG DELETE HKEY_CLASSES_ROOT\Installer\Products\4E867BFF724E3554CB631AF1E5269AD4 /F
REG DELETE HKEY_CLASSES_ROOT\Installer\Products\6D98A6046E9005543B07D873D6BD65EB /F
REG DELETE HKEY_CLASSES_ROOT\Installer\Features\00B86459180C72B4CA69A0A21353E906 /F
REG DELETE HKEY_CLASSES_ROOT\Installer\Products\00B86459180C72B4CA69A0A21353E906 /F
REG DELETE HKEY_CLASSES_ROOT\Installer\Products\68AB67CA7DA73301B744AA0000000010 /F
REG DELETE HKEY_CLASSES_ROOT\Installer\Products\A42FBB8140D64AC46B4BC13F2761E2CE /F
REG DELETE HKEY_CLASSES_ROOT\Installer\Products\C460100B160DEAB4091314A638D85563 /F
REG DELETE HKEY_CLASSES_ROOT\Installer\Features\4195BD842778D2748BFD2E90B25E896F /F
REG DELETE HKEY_CLASSES_ROOT\Installer\Features\B0E390BD43903814AB06C5A1CDF94642 /F
REG DELETE HKEY_CLASSES_ROOT\Installer\Products\4195BD842778D2748BFD2E90B25E896F /F
REG DELETE HKEY_CLASSES_ROOT\Installer\Products\B0E390BD43903814AB06C5A1CDF94642 /F
REG DELETE HKEY_CLASSES_ROOT\Installer\Features\D9D09CCDD8F460A40905DABD82F49FAF /F
REG DELETE HKEY_CLASSES_ROOT\Installer\Products\D9D09CCDD8F460A40905DABD82F49FAF /F
REG DELETE HKEY_CLASSES_ROOT\Installer\Features\2DAEED307B3FFB5409602AD510F5002D /F
REG DELETE HKEY_CLASSES_ROOT\Installer\Features\5258E229E7CA4924CAAA3417D244320C /F
REG DELETE HKEY_CLASSES_ROOT\Installer\Products\2DAEED307B3FFB5409602AD510F5002D /F
REG DELETE HKEY_CLASSES_ROOT\Installer\Products\41699E6F240F9544287BB8832B063165 /F
REG DELETE HKEY_CLASSES_ROOT\Installer\Products\5258E229E7CA4924CAAA3417D244320C /F
REG DELETE HKEY_CLASSES_ROOT\Installer\Features3797D32A1CEE534388FAABEEF25730B /F
REG DELETE HKEY_CLASSES_ROOT\Installer\Products3797D32A1CEE534388FAABEEF25730B /F


:: Install latest version of Flash
msiexec /i %LatestVersionMSI_Path% /quiet

:: Copy mms.cfg to disable auto-update
copy /Y \\domain\Public\General\adobeflash\mms.cfg %systemdrive%\windows\system32\Macromed\Flash
copy /Y \\domain\Public\General\adobeflash\mms.cfg %systemdrive%\windows\SysWOW64\Macromed\Flash
goto :exit

:exit