Now that I've finished migrating data from one disk group to another on my MD3220i, I needed to break down the old disk group (14x300GB 10k SAS) and then use those disks to expand another disk group from the original purchase (16x300GB 10k SAS) giving one big RAID10 array of 30 disks.
I basically went backwards from adding storage, by:
Removing the Cluster Storage Volume (within Failover Cluster Manager)
Deleting the Virtual Disk as available cluster storage (within Failover Cluster Manager)
Remove the host-to-LUN mapping (within the Dell MD Storage Manager)
Delete the Disk Group and Virtual Disk (within the Dell MD Storage Manager)
Following those steps, I had 14 disk available storage to re-allocate.
I then went to the Logical tab, right clicked on the disk group, and selected "Add Free Capacity"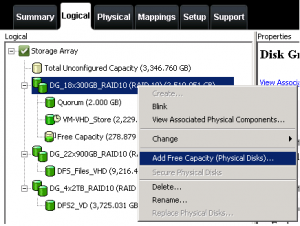 This gave me a list of disks to use, but I could only select two; the wizard wouldn't let me select the full set.
Unfortunately, I chose two and completed the wizard, which went directly into reconfiguring the Virtual Disk. This is unfortunate since it's a 14 hour operation, and I really don't want to do that 7 more times (for each pair).
I took a look in the CLI guide for the MD3220i, but there doesn't appear to be any options for adding free capacity to a disk group. At this point I'm stuck waiting for each disk pair to be added.