An annoying attribute of Windows 7 is that when updates are waiting to be installed, if you choose to shut down, you MUST install the updates at the time.
While there are workarounds to shut down without installing the update (Ctrl+Alt+Del and the shutdown option there), they're not suitable for an entire organization.
I understand the point of this being a default, but when one of the updates is Office 2010 SP1, and you have laptop users waiting to pick up and go it is not desired.
Fortunately there's a Group Policy setting to give you the option to shut down without installing updates.
You can find this at:
User Configuration > Policies > Administrative Template > Windows Components > Windows Updates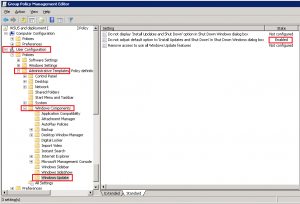 Do not adjust default option to 'Install Updates and Shut Down' in Shut Down Windows dialog box.
If this option is enabled, you will get a regular shut down button, along with an extra option to "Install Updates and Shut Down" from the start menu shutdown arrow options: