A quick review of the Engenious 5611P that we have been using for a few months to connect two offices.

My company recently leased space in a building adjacent to our head office. These two buildings are separated by 250 feet of parking lot, with clear line of sight.
We wanted network connectivity for data, as well as Voice Over IP, so that an additional phone system and receptionist aren't required.
A wireless link is the obvious solution in this case, and we started with a Cisco WAP4410N. The interface for these devices was good, and setup was quick. We used the draft-N protocol and setup a WPA2 secured WDS bridge.
For ease of install we placed the two devices within the building behind the window.
Performance was acceptable, and after a few tests we deemed the link good. However, after about a week of activity in the office, there were severe performance issues, with packets dropping frequently and the Cisco devices locking up.
Ultimately we sourced the issue as being:
Cisco WAP4410N being a crappy device
Interference in the B/G/N network range within our area
Based on that, we purchased two Engenious EOC-5611P devices, to set up an 802.11a network.
Here's a couple screenshots of the web interface: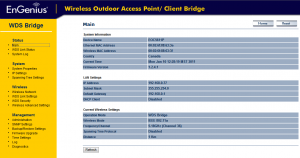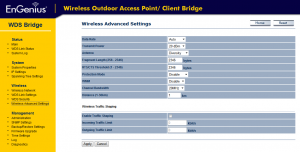 Since setting this up, the link has been rock solid, through hot weather (35 Celsius), cold weather (-40 Celsius), rain and heavy snow. (again, these are indoor behind a window). Our VOIP equipment has zero problems and we haven't had any issues with the software on the devices.
The only downside that we have found of the Engenious devices is the lack of WPA2 encryption while using the bridge mode. Currently only WEP is supported for that mode.
I would immediately recommend these devices for anyone looking for a line of sight link, especially with 802.11a protocol. We purchased from NCIX here:
http://www.ncix.com/products/?sku=55480&vpn=EOC5611P&manufacture=EnGenius