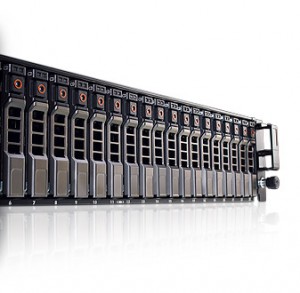 Last week was storage expansion week for me; my team and I added a Dell Powervault MD1220 to our existing SAN controlled by a MD3220i.
We got a full unit loaded with 24 x 900 GB 10krpm SAS, and I was shocked at how quickly it shipped to me. Thanks Dell!
The actual installation was incredibly easy, and we had the storage running within 10 minutes. The technical guidebook said that the MD3220i needed to be powered off to add the expansion, but based on the discussion here and the fact that the MD1220 was brand new and empty, I decided to do it live.
After connecting the SAS cables and turning on the power supplies, the MD1220 went through a startup check, and then by the time I got back to my computer with the MD Storage Manager software on it, it showed 19 TB of available space to be allocated.
From that point, it was as simple as creating a new disk group and virtual disks. I added that virtual disk to our host mapping group, and the storage was immediately visible to my Hyper-V cluster hosts through iSCSI; I didn't have to re-do any iSCSI configuration.
I set up the new virtual disk as a Cluster Volume within the Hyper-V Cluster, and then downloaded a trial of System Center Virtual Machine Manager 2012 to use for the storage migration of the VHD's that need to go on this new cluster volume.
Once those migrations are done, I'll remove one of the old cluster volumes, break up corresponding virtual disk within the MD Storage Manager software, and expand other virtual disks with those available hard drives. Hopefully I don't find anything surprising while doing this; unfortunately this type of operation isn't well documented from what I can find.